Friends living like family,
for the good of our community.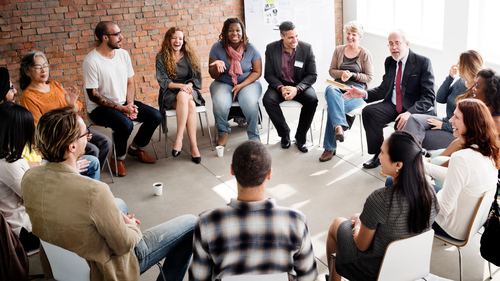 Community Groups consist of 8-16 people who meet on a regular basis, looking to connect in authentic relationships, to deepen their faith, and impact the world around them with the love of Jesus.
Following Jesus is never at its best when done alone. We were made to share life with others–in community. Community Groups provide care and support for each other while growing in your knowledge of Christ and living out your faith together with the communities around you.

In order for the participants in each group to build trust, be authentic and transparent about their lives, and maintain confidentiality, our Community Groups meet for 16 months and are closed (no new members during their season together). Group Launch is our on-boarding process to Community Groups where you'll be able to join a new group as it is forming for a season together.

New Community Groups are launching on Sunday, February 6th. Join a group now!
Do you love helping kids know God's story? Are you crafty? Were you an all-star in P.E. class? Each week we have the best opportunity to bless our kiddos and have a ton of fun.
We're a close-knit team of musicians and behind-the-scenes techs. We serve and laugh hard.
Our students are the next generation's leaders and influencers. Be part of helping our students plug into church life and mentor them toward the awesome future God has for them while having a ton of fun!
Connecting with new folks is our specialty. We help people feel welcome and point the way for visitors to have a great Sunday.
Short-Term Groups are groups that meet weekly for a limited period of time (four to nine weeks) to explore a single, relevant topic (i.e. marriage, finances, spiritual growth, communication). These groups invite people to connect with others around a shared felt need, and equip them with tools and resources that are useful and practical.

We are offering the following short-term groups winter 2022!
If money talked, what would it say?
If you invited money to pull up a chair and give you its best advice, you might be surprised that what it would say is pretty close to what Jesus did say two thousand years ago. It turns out that the secret to financial security isn't a secret. It's just not at all what we expect.
This four-session study offers an approach to money management that will make your life better and make you better at life. Whether you have a lot or a little, are a spender or a saver, you'll find these insights challenging, refreshing, and extraordinarily practical.

We are offering this group on Sunday or Thursday evenings beginning the week of February 6th.
Colossians & Philemon
Men's Study
We all long for more -- more wisdom, more maturity, more power, more faith. To satisfy our longings we attend seminars, go to concerts, listen to celebrity speakers and read popular books. Yet often we come away from these experiences feeling empty. The New Testament books of Colossians and Philemon were written to meet our deepest needs. As you dig into their depths of wisdom in this ten-session for men, you'll discover how to find lasting fulfillment in Christ. Each week's study section features questions to help you dive deeper into Colossians and Philemon and spur on group discussions.

This group will meet Thursday evenings at 6:45p in the Orange Building on campus.
While often overlooked, the Book of Jude remains as relevant today as the time it was written. God has commanded His beloved church to do the necessary work of contending for the faith in a world of unbelief, and as we do, He will keep us from falling into the same deception. In this 7-session study for women, we dive into themes of being called, loved, and kept, and learn how to point others to Jesus in grace and truth. We serve others well when we share the whole gospel with them, not just the parts deemed attractive by our culture.

This group will meet Saturday mornings at 7:30a in the Summit Room on campus.
Get Connected. Go Deeper.
For more information or to get involved with Groups, email
James Jones.